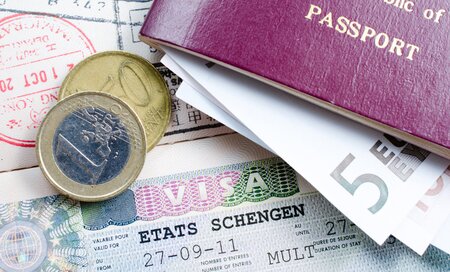 Overview
Different rules apply to entry into Switzerland, depending on the country of origin of the person wishing to enter. A distinction is made between nationals of the EU/EFTA area and third-country nationals (outside the EU/EFTA area). Nationals from the EU/EFTA area - as well as citizens of the Schengen area - may enter Switzerland without a visa, provided they have a valid and recognized identity document. In contrast, third-country nationals generally require a visa to enter Switzerland.
Below is an overview of the main categories of visas and the visa regime for third-country nationals.
Overview of the visa categories
A visa is neither a residence permit nor an authorization to cross the border. It is rather proof that the person wishing to enter the country meets the entry requirements at the time the visa is issued.
Under the Association Agreement with Schengen and Dublin, the representations abroad can either issue a Schengen visa for a stay of up to 90 days, a national visa for a stay of more than 90 days or an airport transit visa. The Schengen visa and the national visa are of particular relevance here:
The Schengen visa (category C) is intended for short-term entry and stays in the territories of the Schengen states - which includes Switzerland - up to a maximum of 90 days within a 180-day period. A Schengen visa is required, for example, for tourist stays or short-term language study visits.
The national visa (category D) entitles the holder to enter Switzerland for the purpose of long-term and regulated stays of more than 90 days. For the issue of this visa, the authorization ("visa authorization") of the cantonal migration office responsible for the intended place of stay in Switzerland is required. A national visa is required in various cases, including: Employment, family reunion, marriage with residence or study in Switzerland.
As a general rule, it is recommended that the application for a visa is submitted as early as possible. Depending on the season and visa category, the processing can take several weeks or months. However, a Schengen visa can be applied for at the earliest six months before the planned entry into the Schengen area.
Visa arrangements for third country nationals
Entry requirements for third-country nationals vary according to nationality, reason for entry (e.g. tourism, visit, gainful employment) and length of stay (short or long term). For Switzerland, the identification and visa regulations by nationality apply with regard to the question of visa requirements (Annex CH-1, List 1 of the Visa Manual I). This list contains an alphabetical listing of all countries and an overview of whether or not their nationals are subject to a visa requirement for a stay of up to 90 days or over 90 days. If third-country nationals intend to enter Switzerland for a stay of up to 90 days within 180 days, they generally require a Schengen visa. Third-country nationals who hold a residence permit issued by a Schengen state that is considered equivalent to a visa or a long-stay visa are, however, exempt from the visa requirement. On the website of the State Secretariat for Migration (SEM) you will find a list of residence permits issued by the Schengen states that allow visa-free entry into Switzerland.
The residence permits of the United Kingdom, Croatia and Canada as well as the American Green Card do not entitle to visa-free entry into Switzerland. However, holders of one of these residence permits can apply for a Schengen visa at a Swiss representation in the event of a short-term stay in the Schengen area or Switzerland.
Switzerland has concluded so-called visa exemption agreements with numerous states, including the United Arab Emirates and Colombia. These regulate the mutual exemption from the visa requirement for stays without gainful employment for a maximum duration of 90 days per reference period of 180 days. Nationals of these countries can therefore enter Switzerland without a visa for a short-term stay.
It should be noted that entry for the purpose of a stay of more than 90 days (by third country nationals) always requires a visa.
Notwithstanding any visa requirement, third-country nationals require a recognized travel document for entry into Switzerland which is valid for at least three months after the date of the intended departure from the Schengen area and which has been issued less than ten years before that date.
Do you have any further questions about the visa requirements of foreign nationals for entry into Switzerland? Our Immigration Team will be happy to advise you.
Categories: Immigration